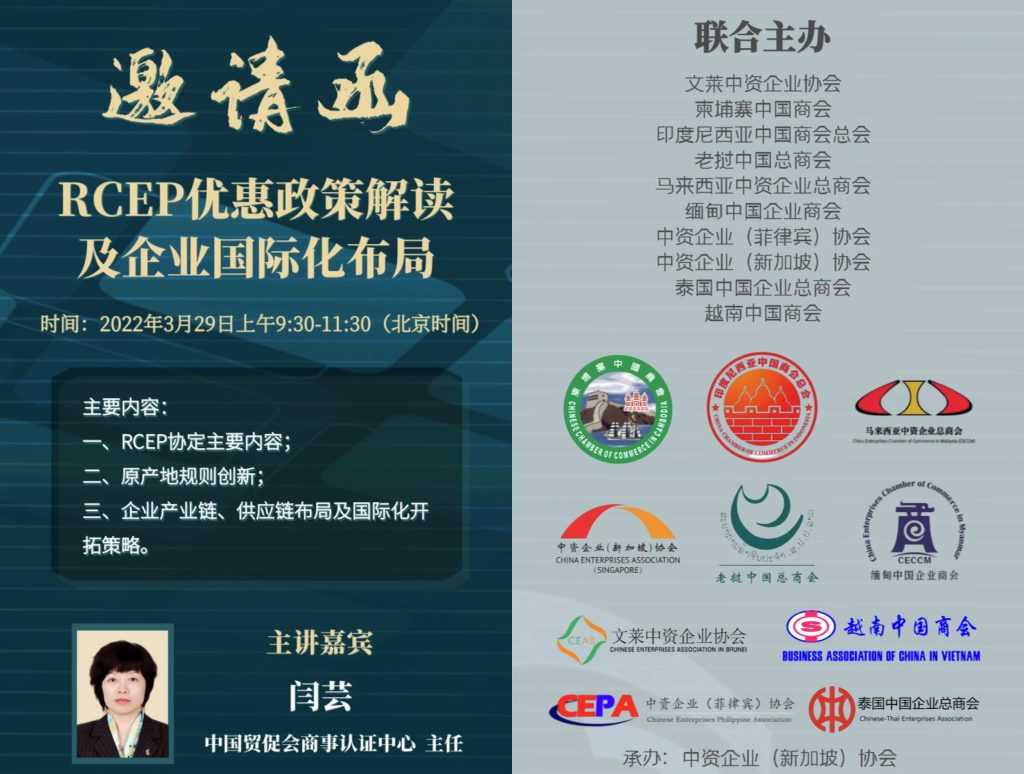 On 28 March 2022, China Enterprises Chamber of Commerce in Malaysia (CECCM) and the China Enterprises Association (Singapore) together with Chinese Enterprises Association in Brunei, Chinese Chamber of Commerce in Cambodia, China Chamber of Commerce in Indonesia Chinese Chamber of Commerce, Laos Chinese Chamber of Commerce, China Enterprises Chamber of Commerce in Myanmar, Chinese Enterprise (Philippines) Association and Chinese-Thai Enterprises Association jointly organized the first RCEP training seminar for Chinese-funded enterprises in Southeast Asia. Yan Yun, Deputy Director-General of CCPIT Commercial Certification Center, was invited as the keynote speaker. A total of 390 participants from Chinese-funded enterprises in Southeast Asian countries attended the webinar virtually.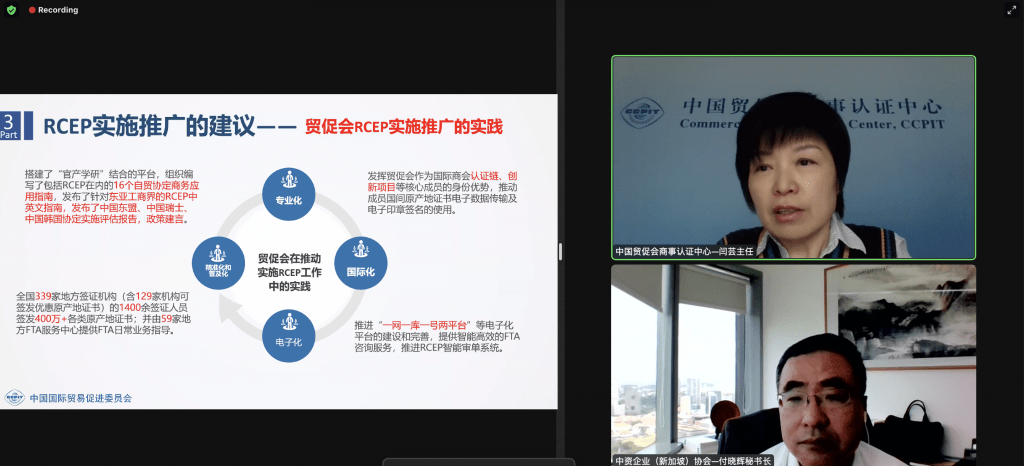 Director Yan Yun first introduced the general situation of the RCEP Agreement, including its signing background, significance of signing and the progress of its implementation. She then analysed the significance of the RCEP Agreement for regional economic growth and global economic reshaping. Subsequently, she focused on the institutional innovation of the RCEP rules of origin and the interaction of regional industrial chains, supply chains and value chains, and discussed the advantages and disadvantages of enterprises under this rule system. She advices enterprises to effectively integrate into regional economic development by sharing RCEP practical application strategies and methods. She also shared the challenges of the CSRC in the implementation and promotion of the FTA and the performance of the agreement in the past two months since its entry into force.
In the final Q&A session, Director Yan Yun answered the difference between RCEP "cargo accumulation" and "production accumulation" and deeply analysed the impact of "production accumulation" that may be implemented in the future RCEP on the supply chain and industrial chain layout of enterprises. The webinar was wrapped up by detailed answers to questions on how companies can better develop their business in the international market, properly respond to challenges and practical application of RCEP.