The Malaysia "Lighthouse Factory Project" webinar hosted by the Malaysian Investment Development Authority (MIDA) and the Malaysian Chinese Enterprises Chamber of Commerce (CECCM) will be broadcast live on the official Facebook homepages of MIDA and CECCM at 15:30 on July 7.
The "Lighthouse Factory Project" in Malaysia aims to assist enterprises to enter "Industry 4.0" and become an industry benchmark, positioning Malaysia as a global advanced manufacturing base.
This event received strong support from Huawei Technologies (Malaysia) Co., Ltd. and Proton Motors.
MIDA Chief Executive Officer Datuk Azman Mamud will serve as the keynote speaker for this webinar. Among the big names present at the event were Mr. Yuan Ming, CEO of Huawei Technologies (Malaysia) Co., Ltd., Mr. Lin Zhixiong, Vice President of Huawei Malaysia Cloud and Computing Business Department, and Dr. Chen Ziliang, Senior Manager of Operational Efficiency and Management Department of Proton Motors. Mr. He Yuhao, a partner in corporate affairs, mergers and acquisitions and capital markets of Wong & Partners. Baker & McKenzie International Law Firm Malaysia, served as the host of the seminar.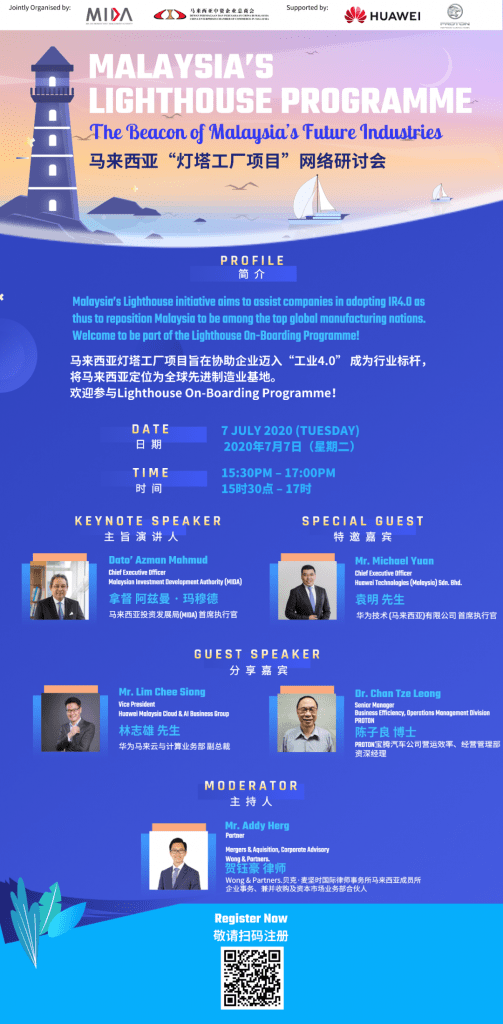 Welcome to register and watch the QR code below the poster for Chinese-funded companies in Malaysia!