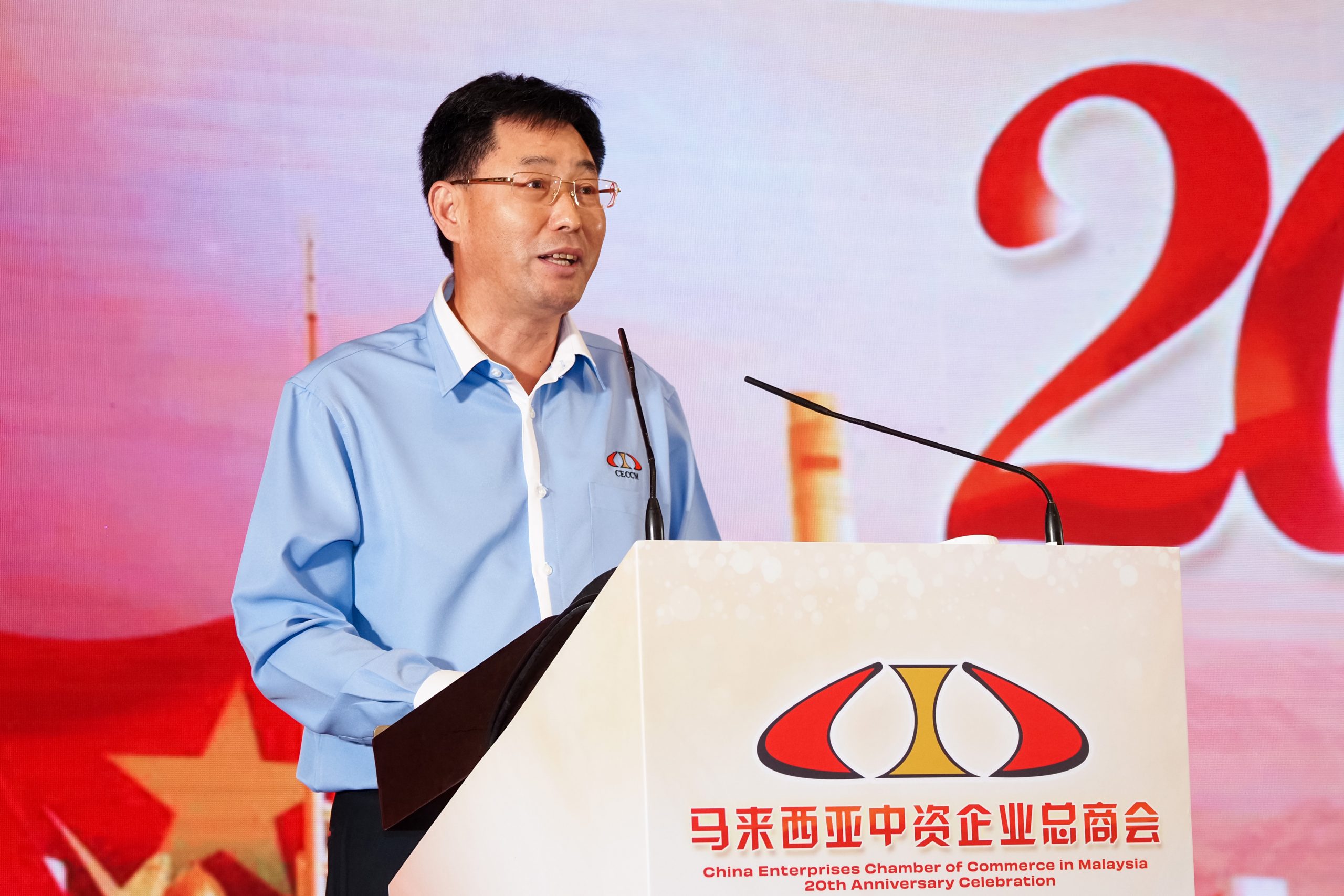 The 20th Anniversary Gala Dinner of China Enterprises Chamber of Commerce in Malaysia (CECCM)
Theme: China-Malaysia Business Approaching Future Together
Good evening to all. Selamat datang.
First and foremost, on behalf China Enterprises Chamber of Commerce in Malaysia (CECCM), I would like to welcome all distinguished guests to CECCM's 20th anniversary celebration and thank you for being with us tonight. I would like to thank the Minister of Transport of Malaysia, YB Loke Siew Fook for taking his time out of his tight schedule to attend the event tonight, which shows YB Loke focuses on the relationship between China and Malaysia as he has been working very quickly since his appointment by meeting with relevant organizations and institutions, and working to promote the development of trade and commerce between China and Malaysia.
This year's anniversary theme is "China-Malaysia business approaching future together", which signifies CECCM's hard work for the past twenty (20) years in promoting the development of the China-Malaysia economy and trade, and the efforts have blossomed to fruition. Moving forward, CECCM will uphold the spirit of mutual benefit and win-win prospects, jointly create a friendly and stable economic and trade environment, and build a better future together.
CECCM was officially established in Kuala Lumpur in 2002. Over the past twenty (20) years, with the assistance and guidance of the Chinese Embassy in Malaysia, coupled with the joint efforts of past presidents, committee members and all members, and with the support from all sectors of Malaysian societies, both our establishment and influence in this country have grown tremendously. As of today, CECCM has more than 260 member companies, covering many sectors such as manufacturing, construction contracting, finance, transportation and logistics, technology and communications, energy, real estate, trade services and many more. In addition, CECCM has established three (3) Working Committees namely the Construction Working Committee, Sarawak Working Committee and Transportation & Logistics Working Committee.
For the past 20 years, we have witnessed CECCM's rapid development and continuous improvement of its service capabilities. Likewise, the members of CECCM have also witnessed Malaysia's growth, and the conducive business environment here enables us to grow our companies, be it in corporate trade investment or cultural exchanges, we have definitely achieved remarkable results. CECCM's role as the bridge and representative of uniting Chinese enterprises in Malaysia has become increasingly prominent. In the past two decades, we have continued to fulfil our responsibilities, abided by laws and regulations, and continued to demonstrate and establish a good image of Chinese enterprises.
Riding on the trend of rapid economic development in China and Malaysia, we have continuously strengthened the China-Malaysia economic and trade exchanges by proactively reaching out to government agencies, business exchanges to discuss the future development and cooperation direction of Chinese enterprises in Malaysia, all of which contributing to China-Malaysia talent exchanges, cultural integration, economic and trade exchanges and other aspects. Additionally, we actively participated in the dialogue sessions held by Ministry of International Trade and Industry (MITI) and the Construction Industry Development Board (CIDB) to reflect the development of Chinese enterprises; signed the "China Special Channel" memorandum of agreement with Invest KL; collaborated with Universiti Malaya and Universiti Tunku Abdul Rahman to organise Chinese enterprises Career fair; signed a strategic partnership agreement with The Associated Chinese Chambers of Commerce and Industry of Malaysia (ACCCIM); worked closely with various committees under the Malaysia-China Business Council; and maintained close and friendly relationships with many local business associations.
In terms of corporate social responsibility, we have contributed to the Penang Flood Relief; donated lifeboats to the Civil Defense Force; participated in a beach clean-up; provided care for the underprivileged community namely the senior citizens and disabled children; fought against the Covid-19 outbreak hand in hand as well as other charitable cause, thereby expanded the influence of Chinese enterprises amongst the Malaysian community and spread love and happiness in the local community. For the past 20 years, we have continuously expanded the "circle of friends" of Chinese enterprises in Malaysia, continuously nurtured the friendship between China and Malaysia, and we could also felt the camaraderie of our dearest friends in Malaysia.
Since the COVID-19 outbreak which first occurred nearly 3 years ago, during the outbreak in China, CECCM had utilised its advantage as the "bridge", by linking the two-way connection, coordinating resources from all parties, contacting organisations in Malaysia to provide medical supplies and financial aids totalling millions of ringgits to several charity organisations in many provinces in China. Together with our Malaysian counterparts, we assisted China in overcoming the initial hurdle of the pandemic. In March 2020, when COVID-19 was raging in Malaysia, we once again gathered the Chinese enterprises to support the Malaysian government, schools, hospitals and other organisations where we donated medical supplies and financial aids totalling more than millions of ringgits, to help in facilitating vaccination programme, we "climbed the hill together and went down the ravine together" with our Malaysian friends.
In the past 20 years, we have accumulated experiences and achieved success through hard work, we have stood together through thick and thin, and prosper together.
Reminiscing the twenty (20) years of CECCM's development, we have definitely achieved certain achievements, but opportunities and challenges coexist on the road of development, which require us to overcome difficulties, pioneer, innovate, and make great strides forward.
In terms of development opportunities:
Firstly, the economic and trade relations between China and Malaysia have reached new heights, the economy of the two countries are highly complementary with good synergy, and the cooperation continue to carry great potential.
Secondly, RCEP has officially come into effect in Malaysia, which I believe will further promote the growth of trade volume between the two countries, optimise the business environment, resulting in a more vibrant economy.
Thirdly, green economy, new energy and other sectors also provide new cooperation opportunities.
Fourthly, the new unity government has been formed, and with Dato' Seri Anwar as the Prime Minister, the government has proposed to focus on the economy and people's livelihood, and to welcome foreign investment. We will continue to focus on these potential business and cooperation opportunities. We will also strengthen our relationship with various government departments to help the Malaysian government strengthen and promote cooperation with China. CECCM is willing to play a greater role in this regard.
At the same time, we also facing some challenges:
Firstly, the escalation of geopolitics and tensions among some countries will further accelerate the reshaping of the global industrial chain, which will affect the restructuring of global trade rules and cause further uncertainties.
Secondly, as a result of the low performance of the world's macro-economy and the resurgence of global inflation, the risk of global economic recession has risen, and therefore the interest rates, exchange rates and stock markets are all under turbulent pressure.
Thirdly, the structural problems in Malaysia's economy itself will also restrict the development of enterprises.
Looking forward to 2023, CECCM will closely follow the development pace of China and Malaysia, seize opportunities and overcome challenges, and continue to contribute towards the holistic exchanges and friendly development between both countries.
Firstly, we must undertake the responsibility of serving our members. CECCM will continue to provide high quality services to Chinese enterprises in Malaysia under the guidance of the embassy, actively build a communication platform and bridge with the local government, chambers of commerce and enterprises in Malaysia, assist to establish a long-term effective communication mechanism at all levels, at the same time listen to the opinions and requests of Chinese enterprises, assist them in solving problems, promote joint development of Chinese enterprises in Malaysia in order to achieve a harmonious and win-win atmosphere.
Secondly, we will further promote communication and exchanges between members and local enterprises. CECCM will continue to deepen the "Belt and Road" Initiative, adhere to the guiding principle of "extensive consultation, joint contribution and shared benefits", continue to assist in promoting in-depth exchanges and cooperation between Chinese and Malaysian enterprises in various aspects, grasp the development opportunities in the post-pandemic era, actively expand areas of cooperation, seek new growth, develop and prosper together.
Thirdly, we should maintain our corporate social responsibility commitment. CECCM is eager to work hard with all parties to actively fulfil corporate social responsibility, practice the ESG philosophy, and showcase good image of Chinese enterprises in Malaysia.
As 2023 is just a few days away, I would like to wish everyone Happy New Year in advance. I wish everyone good health, great success and happiness in the new year!
Have a great evening ahead.
Thank you.