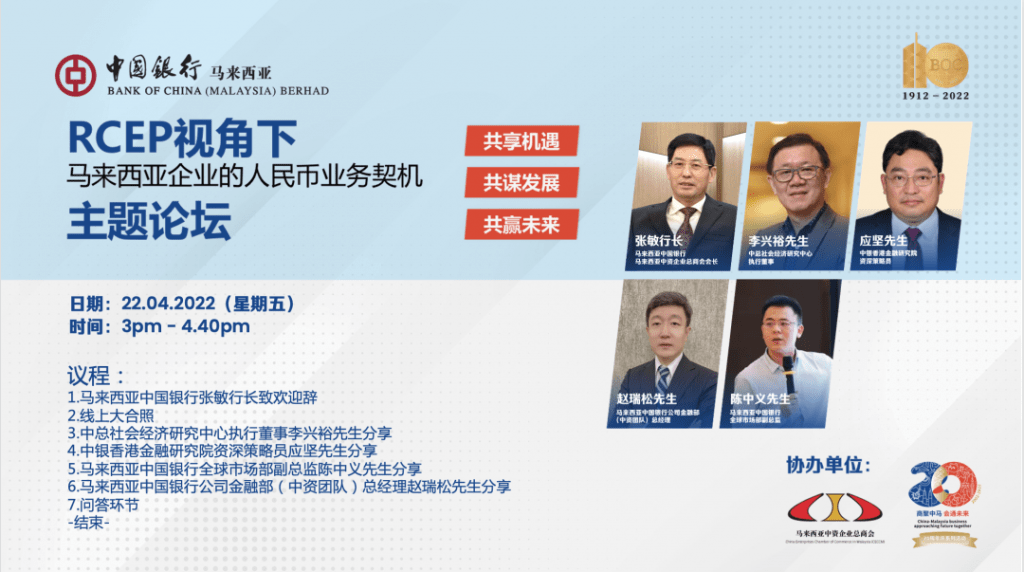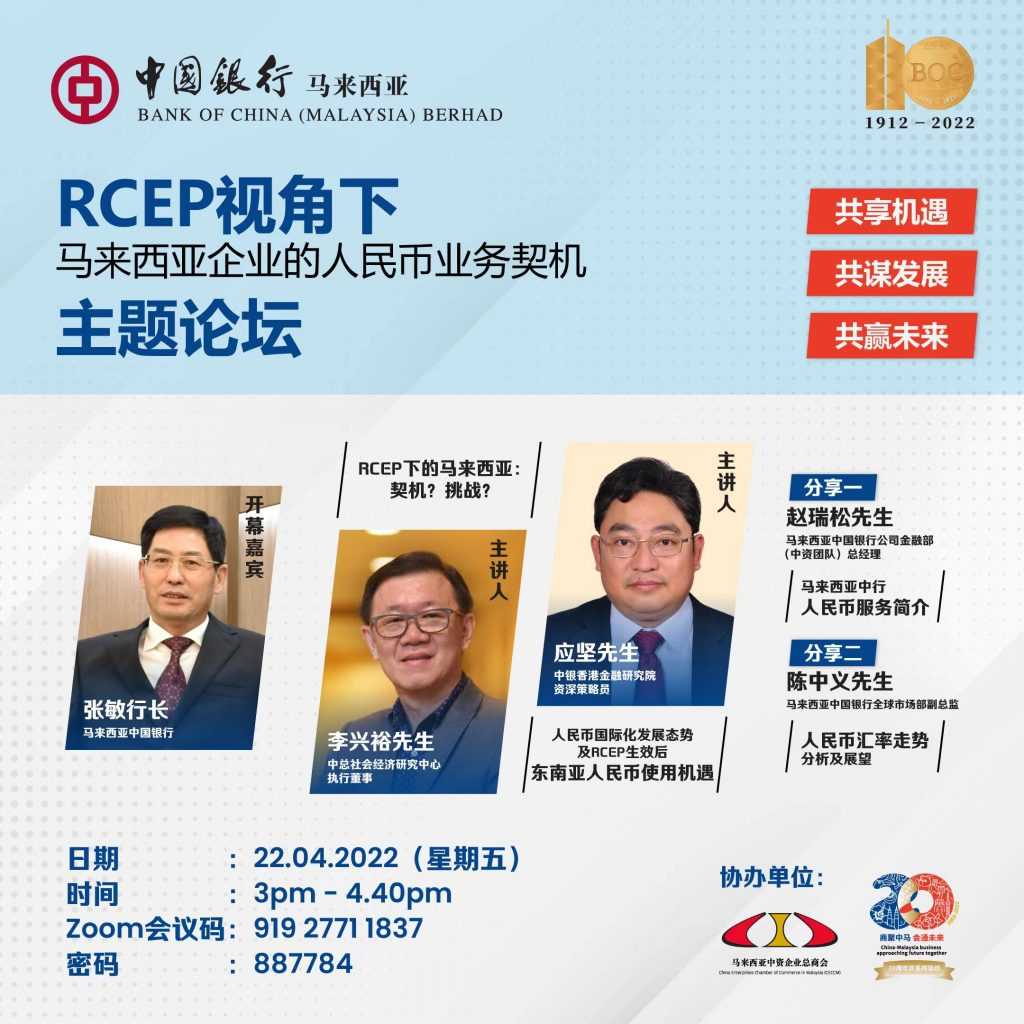 On 22nd April 2022, the "RMB Business Opportunities for Malaysian Enterprises from the Perspective of RCEP", hosted by Bank of China Malaysia and co-organized by China Enterprises Chamber of Commerce in Malaysia was successfully held.
Mr. Zhang Min, President of China Enterprises Chamber of Commerce in Malaysia cum CEO of Bank of China Malaysia, Datuk Ng Yih Pyng, President of The Chinese Chamber of Commerce and Industry of Kuala Lumpur & Selangor (KLSCCCI), representatives of various companies and about 300 people participants join the webinar virtually. The webinar mainly analyse business opportunities and to utilize the opportunities of RMB to achieve win-win development from the perspective of RCEP.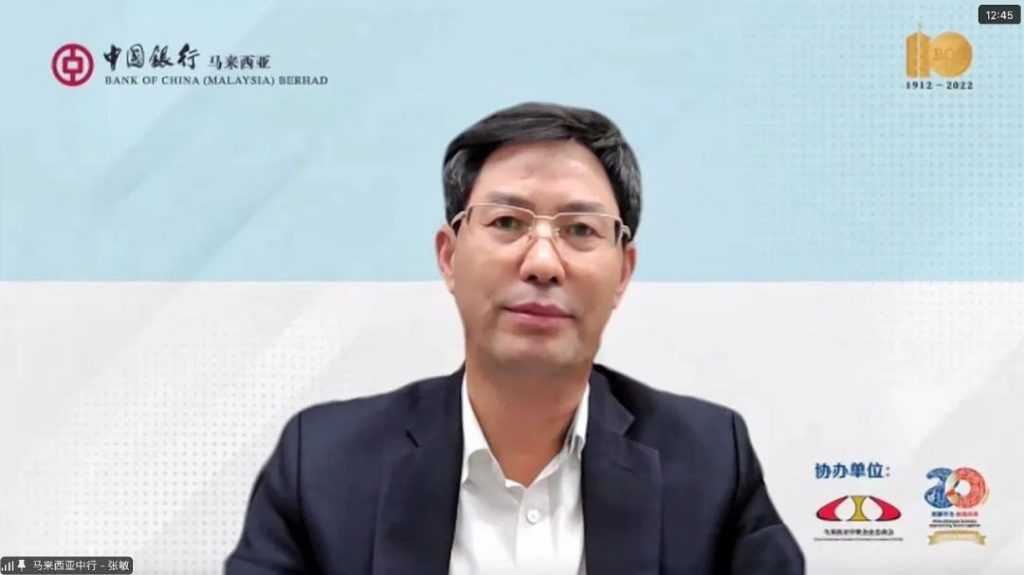 In his opening remarks, Mr. Zhang Min, President of CECCM cum CEO of Bank of China Malaysia said that the entry into force of RCEP will help increase intra-regional trade and investment opportunities and it is a major opportunity for economic recovery in the post-epidemic era. Local cultural advantages of Malaysia and other factors have created favorable conditions for the use of RMB in economic and trade exchanges between China and Malaysia. Under such opportunity, Bank of China Malaysia held the webinar to build a communication platform for enterprises trading with China and to analyse how enterprises can rely on the RCEP policy to reconstruct the supply chain for new business to achieve high-quality development.

Mr. Lee Heng Guie, a well-known Malaysian economist and the Executive Director of the Socio-Economic Research Center (SERC) of ACCCIM, and Mr. Ying Jian, a senior strategist of Bank of China Hong Kong Financial Research Institute, respectively presented the topics "RCEP in Malaysia – Opportunities? Challenges?" and "Development Trend of RMB Internationalization". With the theme of "Opportunities for the Use of RMB in Southeast Asia after the Effectiveness of RCEP", an in-depth analysis was conducted on issues such as the implementation background of RCEP, the macroeconomic environment of Malaysia, the current situation of RMB internationalization in ASEAN, and the prospects for the use of RMB after RCEP came into effect.
Mr. Lee Heng Guie believes that RCEP is both an opportunity and a challenge for Malaysian enterprises. The difference lies in how companies keep themselves abreast of rapid changes in economic markets and make appropriate adjustments to their business models.

 In his sharing, Mr. Ying Jian pointed out that although the use function of the RMB as an international currency is constantly improving, the stability of its exchange rate still needs constant observation due to changes in the international market.


 Next, Mr. Chen Zhongyi, Deputy Director of Global Markets of Bank of China Malaysia, analyse the outlook trend of RMB exchange rate. Lastly, Mr. Zhao Ruisong introduced the RMB service plan of Bank of China Malaysia. During the question and answer session, the participants actively raised questions and the speaker also gave detailed answers to the questions. The webinar helps enterprises to keep abreast of the latest information and ended successfully.