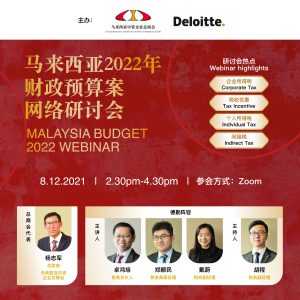 On 8th Dec 2021, China Enterprises Chamber of Commerce in Malaysia (CECCM) and Deloitte Malaysia jointly organised the 2022 Malaysia Budget Webinar. The Deloitte Malaysia Chinese Services Group has provided participants an in-depth introduction to the tax key points related to the development of China enterprises in the 2022 budget. A total of more than 70 people attended the webinar.
Treasurer of CECCM, Mr. Yang Zhijun stated that the three key points of this webinar which are strengthening rec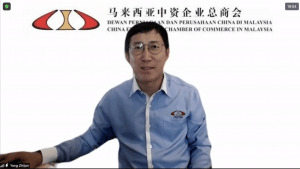 overy, building economic resilience and accelerating transformation have laid a solid foundation for the Malaysian government to implement economic recovery. He said that CECCM has always pays attention to the changes in the Malaysian government's policies on economy, investment, taxation, and talents in hope to help China enterprises to be updated with the latest information. CECCM also establish a good communication mechanism with government departments to help China enterprises in Malaysia.
During the webinar, Deloitte Malaysia Chinese Services Group carefully analyzed the economic outlook and tax-related key proposals of the 2022 budget. Besides that, information such as new prosperity tax, green investment tax incentives and extension of stamp duty exemptions for the budget were shared. In addition, the speakers also explained on taxation items such as tax incentives, corporate income tax, personal income tax, and stamp duty. By comparing the tax policies of previous years, the speakers analyze how the Malaysian government has adjusted its tax policies in this budget and evaluate the impact of tax changes on enterprises.
The questions and answers session were well-received with questions posted to the Deloitte team who answered in detailed to all questions from the participants. The webinar lasted for about two hours, and it provides member companies with a platform to understand Malaysia's tax policies, answer doubts and questions about the budget, and further consolidate the confidence of China companies in doing business and investment in Malaysia.