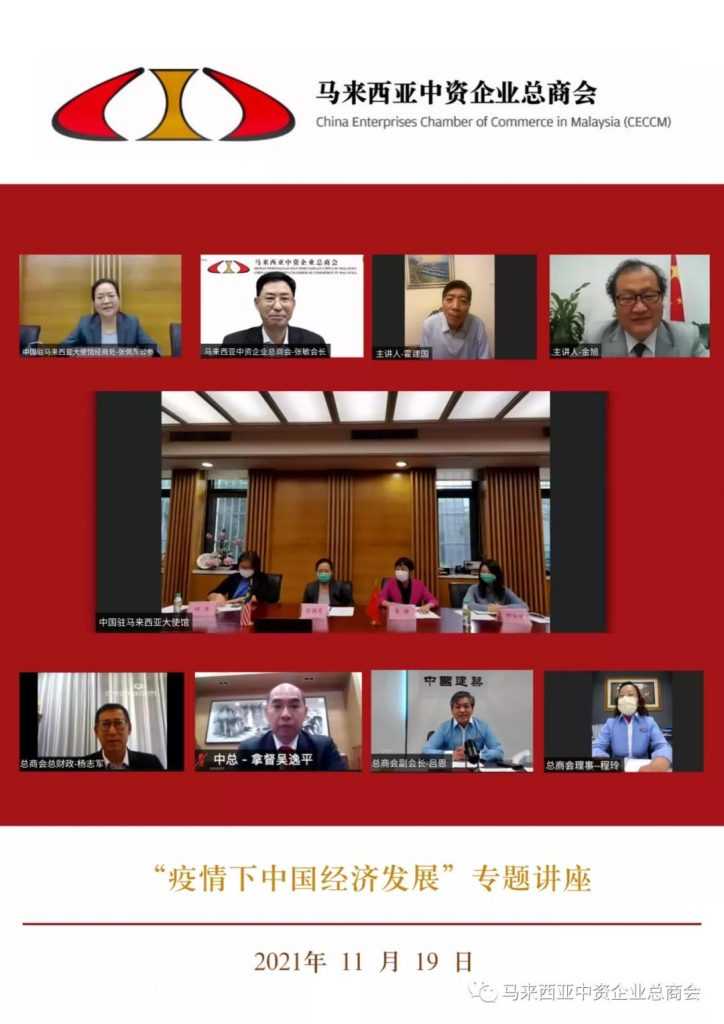 2021年11月19日,中国驻马来西亚大使馆与马来西亚中资企业总商会联合主办了"疫情下中国经济发展"专题讲座,讲座由大使馆李静参赞主持,并邀请到中国国际贸易协会会长金旭先生及中国国际贸易组织研究会副会长霍建国先生主讲。参加者包括中国驻马大使馆经商处张佩东公参、李静参赞、马来西亚中资企业总商会(简称总商会)张敏会长、马来西亚中华总商会(简称中总)署理总会长拿督吴逸平,以及中总、总商会和中国援外培训马来西亚同学会的代表们,共百余人于线上参与本次专题讲座。
     张佩东公参在致辞中首先感谢两位主讲人,她相信透过两位经验资深的专家讲解,将使所有的参会者获益匪浅。她提及随着明年RCEP(区域全面经济伙伴关系协定)正式生效,中马两国经贸合作将迎来新一轮的发展高峰。她表示,大使馆经商处将一如既往地服务中马经贸合作,努力推动中马两国经贸关系持续健康发展。
      张敏会长在致辞中表示在面对新冠疫情冲击、世界经济衰退、国际国内形势复杂的情况下,能邀请到两位专家对中国与国际经济局势进行分析讲解,相信能让中马两国的企业家们更好地了解当前形势并找准未来发展方向、创造更多的合作机会。
     随后两位专家深入浅出地讲解了关于中国目前的经济基本状况以及面临高水平开放后的机遇和挑战,深入地分析了中马贸易未来的发展趋势。两位主讲人结合区域经贸发展趋势及短期内疫情等多种因素交织的形势,提示企业充分关注国际市场的波动和变动、及时调整贸易或投资策略、合理分配自身的业务和资产,同时企业可以提前规划,努力把握中国与东南亚贸易投资合作的巨大潜力与机遇。
19th Nov 2021, Embassy of the People's Republic of China in Malaysia and China Enterprises Chamber of Commerce in Malaysia (CECCM) jointly hosted a webinar titled "China's Economic Development under the Epidemic". The webinar was hosted by Counsellor Li Jing from the China Embassy in Malaysia and invited two special speakers, Chairman of China Association of International Trade, Jin Xu and Vice President of China Society for World Trade Organization Studies, Huo Jianguo. Honourable guests include Minister Counselor of the Embassy of the People's Republic of China in Malaysia, Zhang Peidong, Counselor Li Jing, President of CECCM, Zhang Min, The Associated Chinese Chambers of Commerce and Industry in Malaysia (ACCCIM) Committee Advisor, Datuk Ng Yih Pyng, members of CECCM, representatives of the China-Aid Alumni Association of Malaysia and about hundred other participants.
Minister Counselor, Zhang Peidong first thanked the two speakers for accepting this invitation to share with the participants online. She believes that the knowledge shared by the speakers will benefit all the participants a lot. She mentioned that with the formal entry into force of the RCEP (Regional Partnership Agreement) next year, the economic and trade cooperation between China and Malaysia will usher in a new round of development. The Minister said that the Economic and Commercial Office of the Embassy will continue to serve China-Malaysia economic and trade cooperation. It will strive to promote the sustained and healthy development of China-Malaysia economic and trade relations.
President of CECCM, Zhang Min stated that in face of the impacts of the Covid-19 pandemic and the world economic recession, the webinar had the honour to invite two speakers to analyse the basic situation of China and the international economic situation. He believes that with the professional and in-depth explanations of both speakers, it will enable entrepreneurs from both China and Malaysia to better grasp the current situation and identify the future development direction to create more opportunities.
Afterwards, the two speakers explained about China's current basic economic conditions and the challenges facing opening up. Both speakers carefully analysed the future development trend of China-Malaysian trade. At the same time, the speaker also reminded companies to pay full attention to fluctuations and changes in the international market. It is important to make timely adjustments to trade or investment policies, reasonably allocate their own business assets and avoid risks. All in all, China's foreign trade still has huge potential and optimistic prospects.