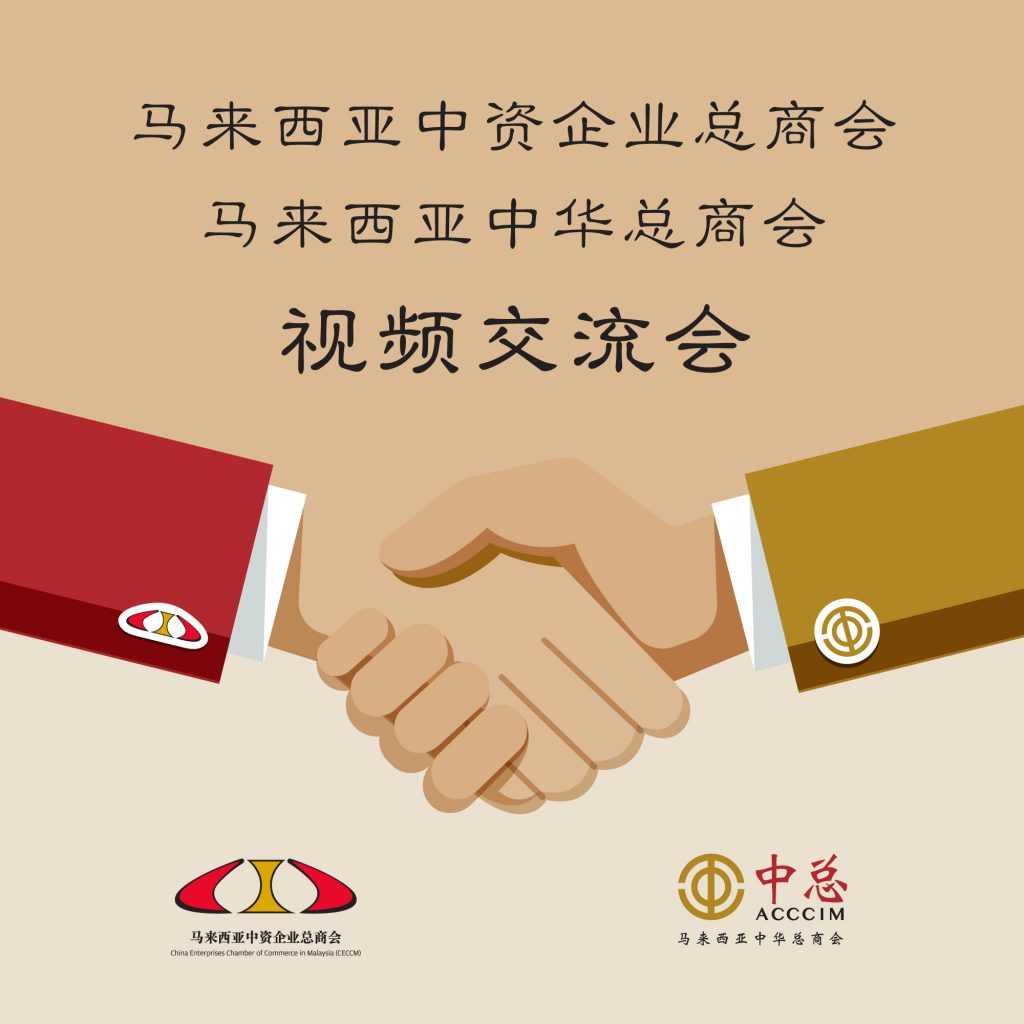 马来西亚中资企业总商会
马来西亚中华总商会视频交流会
联合文告
共推7大计划 促进马中合作
马来西亚中资企业总商会与马来西亚中华总商会(中总)一直在深化马中经贸中扮演着重要推手角色,也为增进两国企业交流与合作提供最佳平台。中资总商会会长张敏与中总总会长丹斯里拿督戴良业与于2021年3月2日,率领两会逾60位马中企业家,就推进彼此合作进行了长达1小时半的线上交流。
张敏会长在会上分享了中资企业防疫抗疫企业复工的最新情况。他表示在一带一路政策的带领下,未来将有更多的中企来马来西亚投资与发展。他期盼两会能相互合作、为会员搭建桥梁并提供沟通与交流的渠道,共同提升企业的市场竞争力。副会长兼建筑分会会长吕恩也在会上分享了中资企业为防疫抗疫做出的举措,并对赴马人员的签证、新冠疫苗接种及企业复工复产等问题提出了建议。
中总总会长丹斯里拿督戴良业汇报了中总筹备"第十六届世界华商大会"的最新情况,以及今年"中总百年会庆"的系列活动,希望借此契机为两会的会员制造更多的交流机会。
中资企业总商会多位理事包括秘书长刘绍泉、会员与联系会员代表也热烈参与了讨论。

两会即席达成共识,成立联合委员会,同意通过 7项合作计划,携手推进马中企业更广泛的合作,实现共同发展。委员会由中资企业总商会秘书长刘绍泉以及中总总秘书拿督陈镇明联合领导。
7项合作计划包括:
建立定期或不定期交流机制;
组织社会公益活动,树立良好的商会形象;
互邀专家,举办时政分析交流会;
举办行业类培训;
加强世界华商大会上的合作事项;
加强两会既有的合作项目(包括广交会、进博会、东盟博览会等);
推进两会会员之间的生意合作
双方代表在会上探讨多个商业领域发展与投资情况,以及区域全面经济伙伴关系协定(RCEP)的影响和新机遇,共同看好马中经贸合作发展前景,并相信两会的携手合作,将能为企业创建更多有效务实的交流平台,以及挖掘更多商机。
—
China Enterprises Chamber of Commerce in Malaysia (CECCM) and The Associated Chinese Chambers of Commerce and Industry of Malaysia (ACCIM) have been playing an important role in deepening Malaysia-China economic and trade. Both chambers also provided the best platform for enhancing exchanges and cooperation between enterprises of the two countries. On 2nd March 2021, President of CECCM, Mr Zhang Min together with President of ACCIM, Tan Sri Datuk Ter Leong Yap, led more than 60 Malaysian and Chinese entrepreneurs in a video conference to promote mutual cooperation for about one and a half hour.
President of CECCM, Zhang Min shared the current work resumption situation of China enterprises in Malaysia. He stated that under the One Belt One Road policy, more China companies will come to Malaysia for investment and development in the future. Zhang Min hopes that the two chambers of commerce can work together with each other to build bridges for members to communicate, so as to jointly enhance the market competitiveness of enterprises. Vice President of CECCM and President of the Construction Industry under CECCM, also summarized the measures taken by China companies to fight the pandemic. He raised outstanding issues such as visas for personnel travelling to Malaysia, vaccinations programme of Covid-19, and resumption of construction site.
President of ACCIM, Tan Sri Datuk Ter Leong Yap, reported on the latest situation of ACCCIM's preparations for the "16th World Chinese Entrepreneurs Conference" and the series of activities for this year's "100th Celebration of ACCIM" in hope to take this opportunity to create more communication between members of the two chambers.
Majority of the committee members of CECCM including Vice Precident and Secretary-General Liu Shaoquan, representatives of various members and associate members also participated in the discussion enthusiastically.
Both chambers had reached consensus to establish a joint committee and agreed to adopt 7 main collaborations plans to jointly promote more extensive cooperation between Malaysia and China enterprises. The committee will be jointly led by Secretary General of ACCIM, Dato' Tan Tian Ming and Vice President cum Secretary General of CECCM,  Liu Shaoquan.
The 7 main collaborations include:
To establish meeting session on a regular or irregular basis.

To organise social welfare activities to establish a good image for the Chamber of Commerce.

To invite experts to discuss and analyse the current affairs.

To organize industry training.

To enhance cooperation between CECCM and ACCIM at the 16th World Chinese Entrepreneurs Convention.

To strengthen the existing cooperation projects between CECCM and ACCIM (including the ASEAN Fair, International Import Expo, Nanning Expo, etc.)

To promote business cooperation between members of both CECCM and ACCIM.
The representatives of the two chambers discussed the development and investment trend in various areas, as well as the impact and new opportunities of the Regional Comprehensive Economic Partnership Agreement (RCEP). They are optimistic about the development of economic and trade cooperation between Malaysia and China. Both chambers will work together to create more effective and pragmatic communication platforms and explore more business opportunities.