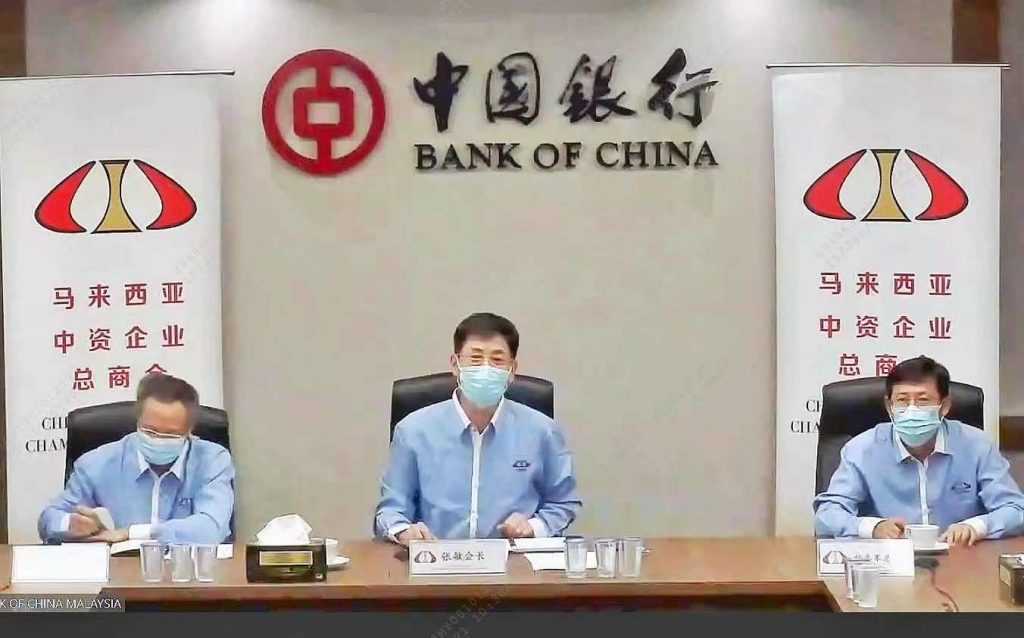 2021年1月15日,马来西亚中资企业总商会会长张敏携秘书长刘绍泉、总财政杨志军等总商会代表通过网络视频方式拜会新任中国驻马来西亚特命全权大使欧阳玉靖阁下。使馆经济商务公参张佩东、一等秘书李雅彬等陪同大使参加会见。
张敏会长代表总商会热烈欢迎欧阳大使。张会长表示,在大使的带领下,已经坚实稳固的中马关系必将增加更为辉煌的新篇章。张敏会长代表总商会介绍了商会的基本情况和2020年主要工作,简要介绍了中资企业在马投资兴业情况,以及疫情爆发以来做好疫情防控和生产经营情况。疫情爆发至今,在马中资企业一方面积极捐款捐物,打好战疫的上下半场,一方面与马来西亚当地社会各界人士一道,团结一心,在马来西亚疫情持续蔓延的情况下抓好常态防控,做好企业安全经营。张敏会长表示,2021年,总商会将继续团结在马中资企业,在持续做好疫情防控的同时,充分发挥好两国经贸交往的桥梁和纽带作用,积极开展工作,对外搭建与马方相关政府机构的沟通平台,对内搭建中资企业间的交流平台,为中马友谊和经贸往来多做贡献。
On 15th January 2021, President of China Enterprises Chamber of Commerce in Malaysia (thereafter refer as, CECCM), Zhang Min together with Secretary-General of CECCM, Liu Shaoquan and Treasurer of CECCM, Yang Zhijun, represented CECCM to virtually meet and welcome the newly appointed Ambassador Extraordinary and Plenipotentiary of the People's Republic of China to Malaysia, Ouyang Yujing through online meeting. Economic and Commercial Counselor of the embassy, Zhang Peidong ​​and First Secretary, Li Yabin accompanied the ambassador during the meeting.
President of CECCM, Zhang Min warmly welcomed Ambassador Ouyang on behalf of the Chamber of Commerce. He also stated that under the leadership of the ambassador, the strong relationship between China-Malaysia will surely further develop to a more glorious chapter.
President of CECCM, Zhang Min introduced the Chamber of Commerce and reported its main activities in year 2020. He also briefly introduced the investment and business development of Chinese-funded enterprises in Malaysia, as well as the pandemic prevention and operation control since the outbreak. Chinese-funded enterprises in Malaysia have actively donated money and materials to fight the first to second quarter of Covid-19. These enterprises stayed united with Malaysians to do a good job in prevention and control as the pandemic continues to spread in Malaysia. CECCM will continue to unite Chinese-funded enterprises in Malaysia while continuing to prevent and control the pandemic. CECCM will act as bridge and link between China-Malaysia economic and trade exchanges. It will also actively establish communication platform of relevant government agencies to build better relationship between Chinese-funded enterprises and make more contributions to the economic and trade exchanges between China and Malaysia.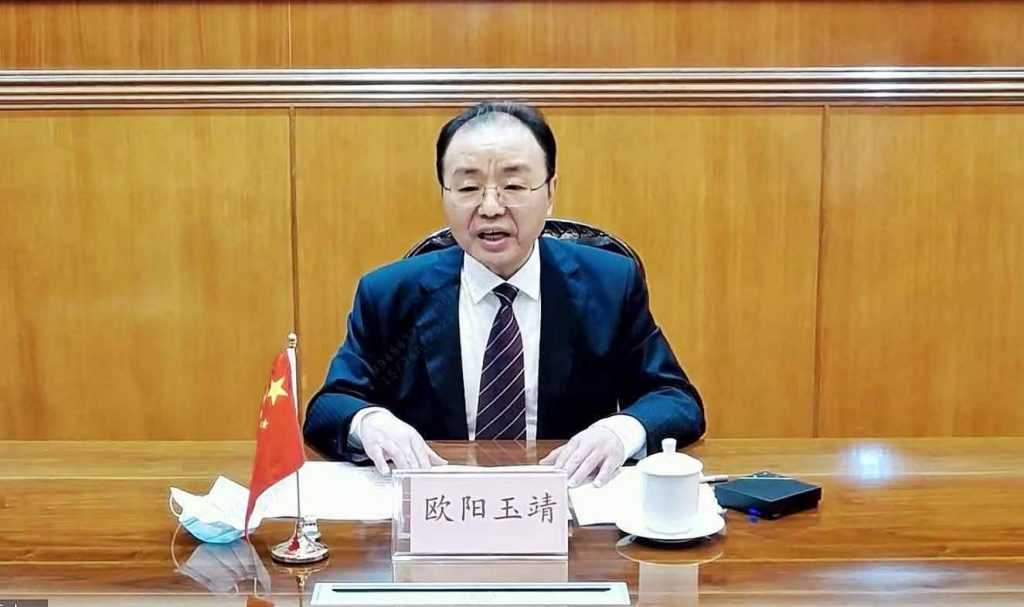 欧阳大使充分肯定了总商会前期的工作,表示商会发展势头良好,组织架构不断完善,制度逐步健全,越来越成为中资企业具有凝聚力的大家庭。他对疫情期间在马中资企业坚守岗位,积极抗疫表示了感谢,对远离家人在异国他乡奋斗的中方员工表示了慰问并提前致以新春的问候。
欧阳大使深入分析了当前国际国内形势。在新冠疫情的严重挑战下,2020年中马双边贸易和投资额逆势增长,截至11月,两国双边贸易额连续三年突破千亿美元,达到1166亿美元,同比增长4.6%,同时中国连续4年成为马来西亚制造业最大投资来源国。中资企业是国际国内双循环的一线践行者,这些成绩的取得与中资企业的努力是分不开的。欧阳大使指出,当前面临的危机既是挑战,也与机遇相辅相成,期望中资企业以更远大的眼光看待眼前的挑战,更加深入研究十四五规划和RCEP等新的发展机遇,助力中马经贸合作交流更上一层楼。
欧阳大使对于总商会和在马中资企业提出了几点期望。第一,当前疫情形势严峻,马来西亚政府最近发布了新的疫情管控措施,希望中资企业严格遵守相关法律法规,将疫情防控作为首要任务,稳住人心、稳在当地,同时积极高效开展生产经营。
第二,商会的核心和重点是为会员企业服务,期望2021年中资企业总商会继续团结在马中资企业,为会员企业做好服务,通过各类活动,促进中资企业与中马两国政府、商会、社团、智库等的联系与交流,促进信息分享,也为企业提供帮助,协助解决企业自身难以解决的问题,提升商会软实力。
第三,鼓励中资企业积极担当社会责任,树立中资企业良好的品牌形象,创造更好的发展环境。
第四,做好商会自身组织建设和队伍建设,创新机制体制,开拓工作思路,与马来西亚社会各界建立更为广泛的联系,搭建中马之间沟通交流的平台。
2021年,商会将认真落实大使的指示,在困难的形势下继续砥砺前行,发挥中马经贸合作推进器的作用,为中马两国关系的进一步发展多做贡献。
Ambassador Ouyang fully affirmed the previous work of CECCM stating that CECCM has a good momentum of development, its organizational structure and system has been continuously improved resulted Chinese-funded enterprises to stay together cohesively. He expressed his gratitude to Chinese-funded enterprises in Malaysia for sticking to their responsibilities and actively fighting the pandemic. Ambassador Ouyang sends his regards and extend New Year greetings in advance to Chinese employees who are far away from their families and struggling in a foreign country.
Ambassador Ouyang deeply analyzed the current international and domestic situation. Under the severe challenge of the Covid-19 pandemic, the bilateral trade and investment between China and Malaysia will grow against the trend in 2020. As of November, the bilateral trade between the two countries exceeded 100 billion U.S. dollars for three consecutive years, reaching 116.6 billion U.S. dollars, which was an increase of 4.6%. China has become the largest source of investment in the manufacturing industry in Malaysia for 4 consecutive years. These achievements are inseparable from the efforts of frontline practitioners which are the Chinese-funded enterprises. Ambassador Ouyang pointed out that the current crisis is not only a challenge, but can be taken as opportunities. He hopes that Chinese-funded enterprises will look at the immediate challenges with a broader perspective and will further study new development opportunities such as the XIV plan quinquenal and RCEP plan.
Ambassador Ouyang raised several expectations for CECCM.
First, to ensure Chinese funded enterprises in Malaysia will strictly abide by relevant laws and regulations issued by the government, emphasize on prevention and control, stabilize people's hearts, stay in roles and efficiently carry out production as the pandemic situation is severe.
Second, to continue to unite Chinese-funded enterprises in Malaysia in 2021 and provide good services to member companies. CECCM should promote the relationship of its member and China-Malaysia government, chamber of commerce and other associations through various activities. It should also provide assistance to enterprises and assist in solving problems of its members.
Third, to encourage Chinese-funded enterprises to actively assume social responsibility and establish a positive image of Chinese-funded enterprises.
Fourth, to do a good job in the organization and team building between members of CECCCM in order to innovate mechanisms and systems be open to work ideas. This is to establish better contacts with all sectors of the Malaysia society and build a communication platform between China and Malaysia.
As CECCM embrace the new year of 2021, CECCM will implement the instructions of the ambassador to continue to move forward and play important role in Malaysia economic and trade cooperation to further contribute to China-Malaysia relations.