自贸联动世界,合作共绘蓝图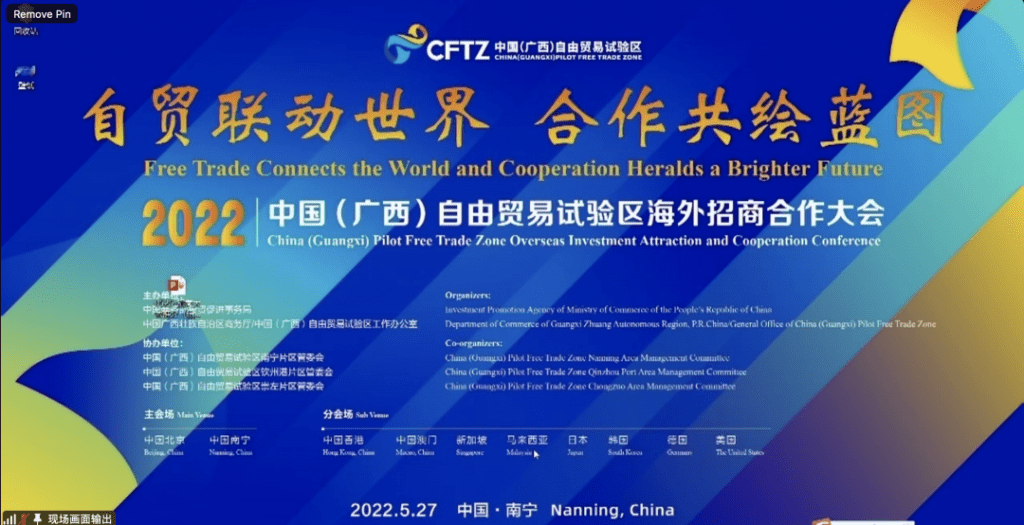 2022年5月27日,马来西亚中资企业总商会受邀参加由广西壮族自治区商务厅和商务部投资促进局联合举办的"2022中国(广西)自由贸易试验区、广西海外招商合作大会"。会议旨在进一步拓宽广西外资招商渠道,构建广西全球招商网络体系。张敏会长代表总商会与广西壮族自治区商务厅签署合作备忘录。马勇副会长、杨志军总财政、中国建筑助理总经理兼市场部经理曾小光先生代表总商会于线上一同参会。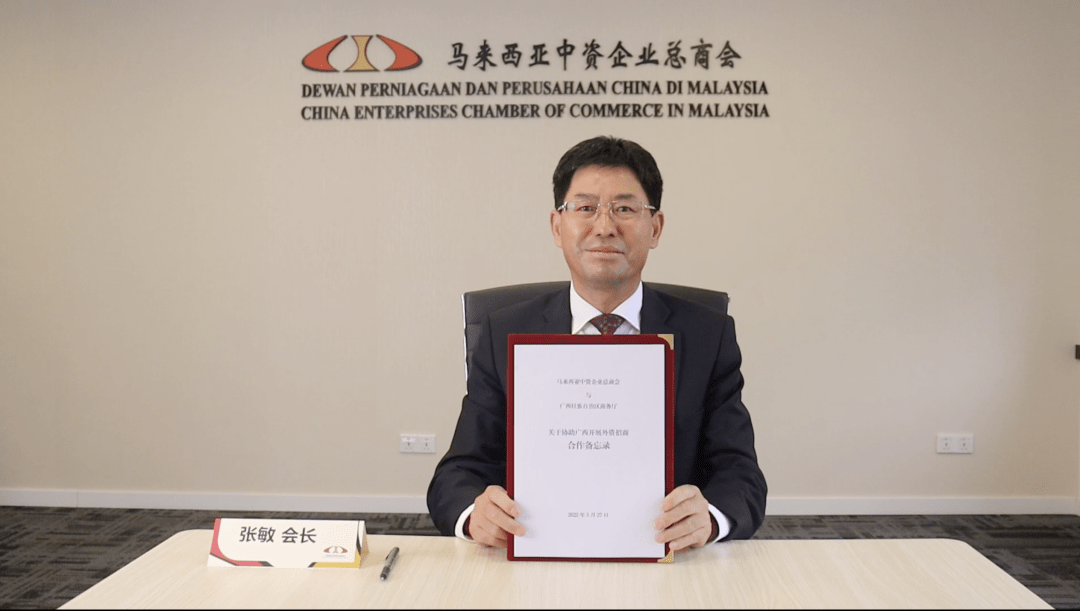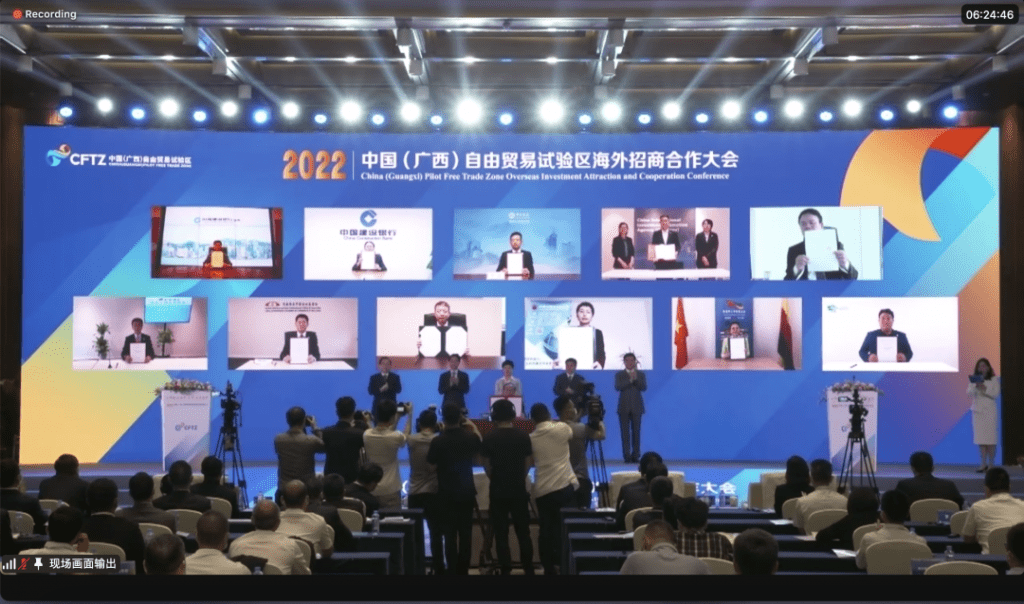 11家海外战略机构共同签署本次合作备忘录
大会以"自贸联动世界,合作共绘蓝图"为主题,采取线上线下结合的方式举办。广西自治区常务副主席蔡丽新、商务部投资促进局局长刘殿勋等领导出席并致辞。大家共商合作,共谋发展,不仅观看了广西自贸试验区宣传片,还听取了自治区商务厅刁卫宏副厅长关于"广西投资商机"的推介,全方位了解了广西的资源、环境、产业发展现状及优势。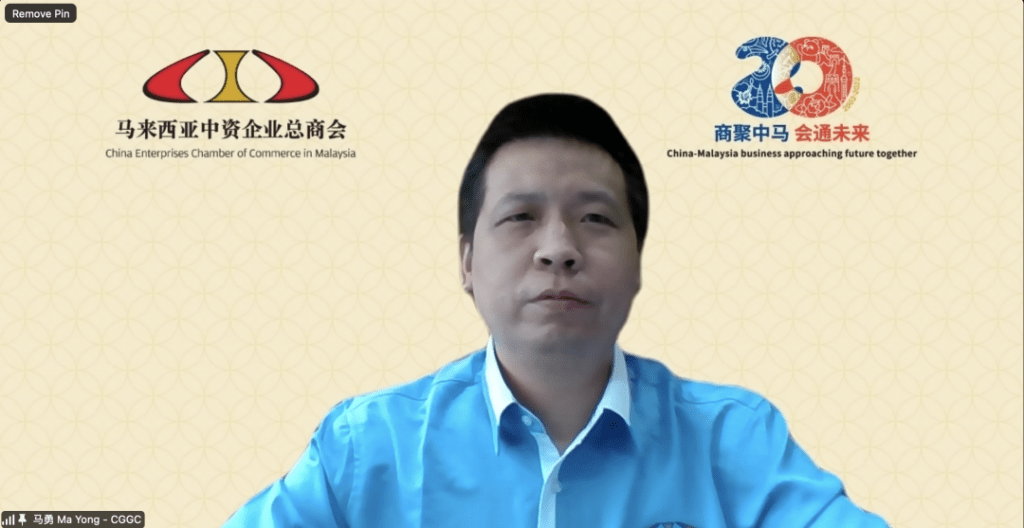 副会长马勇先生在致辞中表示,随着RCEP协定2022年正式在马来西亚和中国生效实施,中马两国经贸合作将迈上新台阶;而广西-作为中国与东盟之间唯一既有陆地接壤又有海上通道的省份也必将在中马两国贸易长卷中留下浓墨重彩的一笔。马来西亚中资企业总商会愿意与广西自治区政府一起,努力搭建广西企业与大马各界交流的平台,大力推动广西与马来西亚的经贸合作迈向更高水平、更深层次和更高质量。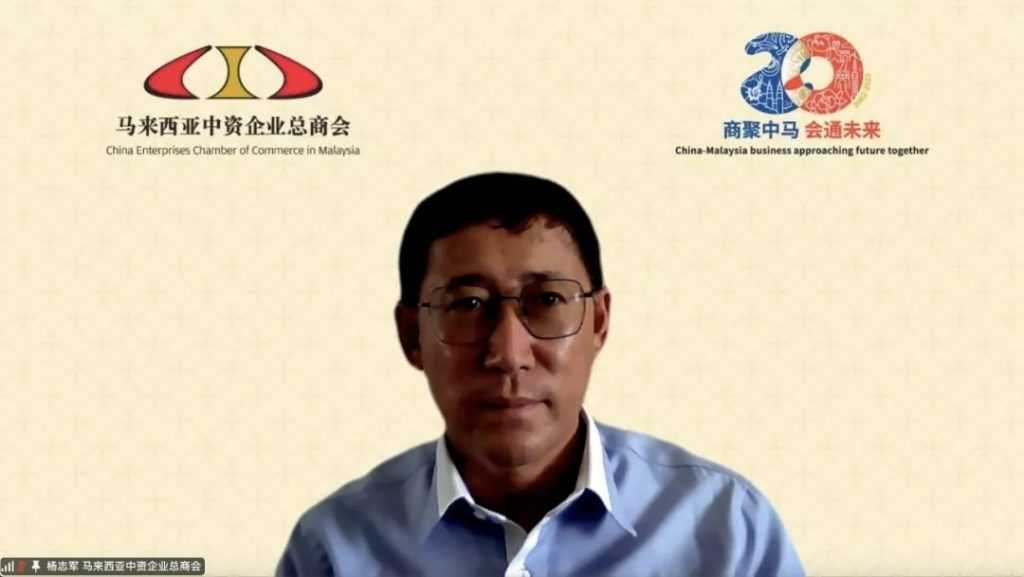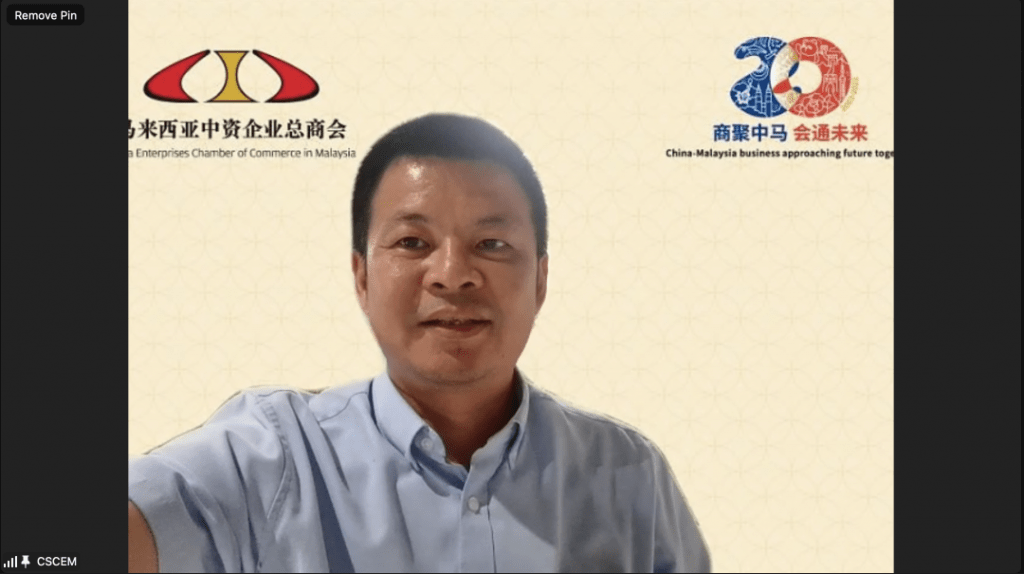 杨志军总财政与副会长单位中国建筑代表曾小光于线上一同参会。
未来,总商会将以此次合作大会为契机,与更多中国省市政府部门、友好商(协)会深入开展业务合作,创新商业模式,建立国际化、专业化沟通平台,为加快推进两国现代化贸易建设做出更大贡献。
_
On May 27, 2022, the China Enterprises Chamber of Commerce in Malaysia (CECCM) was invited to participate in the "2022 China (Guangxi) Pilot Free Trade Zone and Guangxi Overseas Investment Promotion Cooperation Conference" jointly organized by the Investment Promotion Agency of Ministry of Commerce of the People's Republic of China. President of CECCM, Zhang Min signed a memorandum of cooperation with the Department of Commerce of Guangxi Zhuang Autonomous Region on behalf of CECCM. Vice President of CECCM, Mr. Ma Yong, Treasurer of CECCM, Mr. Yang Zhijun, representative of China Construction, Mr. Zeng Xiaoguang attended the conference virtually on behalf of CECCM.
With the theme of "Free Trade Connects the World, Cooperation Heralds A Better Future", the conference was held in virtually as well as physically. Cai Lixin, Executive Vice Chairman of Guangxi Autonomous Region, Liu Dengxun, Director of Investment Promotion Bureau of the Ministry of Commerce and other leaders attended and delivered speeches. Participants watched the promotional film of Guangxi Pilot Free Trade Zone, and also listened to the promotional speech of "Guangxi Investment Opportunities" by Diao Weihong, Deputy Director of the Ministry of Commerce.
Mr. Ma Yong, Vice President of the CECCM, said in his speech that with the RCEP agreement coming into effect in Malaysia and China in 2022, economic and trade cooperation between China and Malaysia will reach a new level, and Guangxi, as the only province with both land and sea access between China and ASEAN, will definitely leave a strong mark in the long volume of trade between China and Malaysia. The Chamber is willing to work with the government of Guangxi Autonomous Region to build a platform for exchanges between enterprises in Guangxi and all sectors in Malaysia, and to vigorously promote economic and trade cooperation between Guangxi and Malaysia to a higher level, deeper level and higher quality.
In the future, CECCM will take this cooperation conference as an opportunity to deepen business cooperation with more Chinese provincial and municipal government departments and friendly chambers of commerce (associations), innovate business models, establish international and professional communication platforms, and make greater contributions to accelerate the modernization of trade between the two countries.